Design and Development
» Design
instruction for e-Learning, blended, WBT, or classroom
» Create
content by analyzing materials, interviewing key stakeholders and performers, and researching performance goals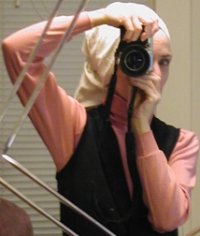 » Develop
e-Learning web and course modules using:
- Web tools, including html, JavaScript/DHTML, css
- Authoring and Content Managment Packages including Toolbook, Authorware, Moodle, Joomla!, Drupal, Presenter, Captivate, Camtasia and Articulate
Analysis, Consulting & Training
» Analyze
training needs and performance objectives
» Consult
on e-Learning interface, design and development process
» Evaluate
existing training for its instructional effectiveness
» Advise
designers on course,curriculum and e-Learning design
» Train
teams in the design and evaluation of e-Learning
- Custom designed seminars
- Instructor for CLARK Training & Consulting seminar packages
"Outstanding! My employees are energized and excited about using their newly-taught knowledge. They are eager to start applying what they have learned."
Upton Shimp, Defense Ammunition Center
Awards
» Columbia Graduate School of Journalism
, 2007 Sulzberger Fellow
» Society for Technical Communication
2006 Associate Fellow
» Brandon Hall Multimedia Competition
1997 gold and silver awards for multimedia
» Society for Technical Communication Distinguished and Excellence
for Manuals, Tutorials and Guides
Coming Events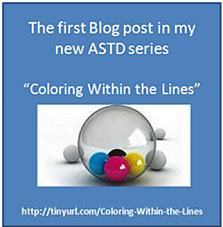 You can also register for the next webinar on Graphics for Learning, by going to the
Course page at ASTD
Recent e-Learning Projects
"The development of our CAPSULE training program was excellent and my entire experience working with Chopeta was great! While this project was exceptionally detailed and technology driven, all milestones were completed on schedule."
Rona Church, ACNielsen
» L'Oreal
Assess training need, analyze content, design and storyboard 1.5 hours of soft skills e-learning training for new hires.
» futurethink, inc.
Assess e-learning library, analyze content, design, storyboard and develop revised e-learning courses.
» March of Dimes
4 hours of training in 20 Flash modules (as well as online help and paper desk guides), with animation and audio, to support national roll-out of a new enterprise-wide managment software system.
» DBMI
Web-accessible flash modules on mutual fund families for brokers, featuring animation and audio. For The Hartford.
» Total Learning Concepts
Web-based pharmacy sales training course, featuring virtual tours, audio, animation, and self checks. For Abbott Labs.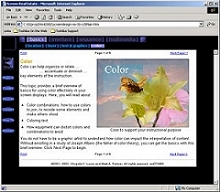 Play animation.
» Micro Training Associates
Blended (CD-ROM, Instructor-led, and Internet) new-hire training. For ACNielsen.
» 24 hours of multimedia training
with distinct paths for different job tasks in the CWMS system. For March of Dimes
» Performance support for VDEM
with multimedia, online help and standup. For March of Dimes
Books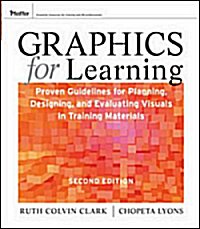 » GRAPHICS FOR LEARNING, 2nd Edition.
co-authored with Ruth Clark, Pfeiffer, 2010.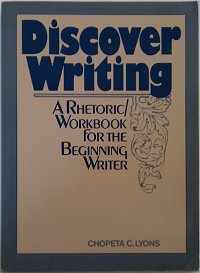 » DISCOVER WRITING
Englewood Cliffs, New Jersey: Prentice-Hall, Inc. 1984
Articles
»"Picture Perfect: Selecting Graphics for Instruction,"
Intercom, 51 (8), pp. 17-21.
»"Ten Tips for Talking to Artists,"
Intercom, 50 (7), pp. 11- 16.
»"What to Do When There's No Time to Do the Job Right,"
The eLearning Developers' Journal, co-authored with Bill Brandon, Joe Ganci, Karen Hyder; October 6, 2003"
» GRAPHICS FOR LEARNING.
co-authored with Ruth Clark, Pfeiffer, 2004.
»"More Than Just Eye Candy: Graphics for e-Learning,"
The eLearning Developers' Journal, September 15, 2003.
» Avoiding Shovelware
STC Imprints 12-00/01-01
» "Using Web-Based Training Wisely,"
co-authored with Ruth Clark, '99 Training Magazine 36 (7)
» "Web-Based Training Design,"
co-authored with Ruth Clark '99 Intercom 46 (9) pp.7-12
» "Crossing Over: Evaluating Training"
Imprints Sept. 1999
» "Secrets of Good Screen Design, Parts 1 and 2"
Imprints, 1994
» CBT On Shifting Sands
CBT Directions, Boston, MA: Weingarten, July 1991
» "Fifteen Ways to Cope with a Moving Target"
CBT Directions, Boston, MA: Weingarten, June 1991
»"CBT as Software, The Bug Stops Here"
CBT Directions, Boston, MA Weingarten, 1988